Latest Happenings……
Third Annual Kick Butts Awareness Day – March 25, 2015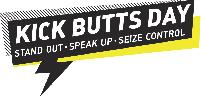 How do WSU students feel about being a "replacement"? The Tobacco Industry's own documents say they are "Still Seeking Replacements" for the 1,300 Americans tobacco kills daily to stay in business. They spend $1 million/hour (that's $8.8 billion a year!) to market tobacco products in the United States.  Here's a video, created by student, Mike Theobald to summarize our Kick Butts Awareness Day at the Student Union on March 25, 2015:
Here's a photo of 1st year students, submitted by the Athletic Training Program:
---
Know any students thinking about quitting smoking?
Quitting can be difficult – research shows that only 4-7% of smokers are able to quit on their own, although around 70% of U.S. smokers would like to stop.     Most people can benefit from discovering their triggers, their barriers, talking with their healthcare provider about pharmaceutical options.   Public Health Education student Mike Theobald, is offering a free 4-session class JUST FOR STUDENTS, in partnership with Public Health – Dayton Montgomery County,  on Wednesdays from 4:00-5:00 starting April 1st.  For more information, please email Mike at Theobald8@wright.edu.
---
Safe Spring Break Wellness Event – February 2015
Right before Spring Break, Public Health Education students
helped lend a hand at the new Student Affairs Wellness Committee's first  "Safe Spring Break" fair at the Student Union.  Over 250 students stopped by to learn about sunscreen, safer sex, nutrition, responsible alcohol use, and tobacco prevention. Healthy snacks and fun music was provided by WWSU radio, which helped initiate a the hula hoop contest as well as some dancing.  Students who checked in at all stations turned in a postcard for a drawing for Beats headphones.  Thanks to Public Health Education students Mike Theobald, Anna Early, Don Ntontolo, and Israa Alaidrous!
 
---
  Fall 2014 – Health Educator's Institute
Students Tina McGillvary (second from left), Anna Early, and Morgan Cantrell took time from their busy student lives to attend Ohio SOPHE's annual Health Educator's Institute on October 23-24, 2014 at Maumee Bay State Park Resort outside of Toledo, Ohio.   They joined over 160 professional health educators and 30 other students from Ohio University, Ohio State University, University of Toledo, and University of Cincinnati.  This is THE conference to attend to obtain CHES credits (continuing education), hear some of the latest developments in research and programming, and meet some of the leaders in public health education in Ohio. Speakers gave presentations on a wide variety of topics, such as Health Impact Assessments, Healthy Corner Stores, Gun Violence and Public Health, How to Conduct a Plate Waste Study in Schools, Global Climate Change, and Shared Use Policies for Community level Physical Activity.  WSU faculty, Mary Chace (left) participated on the HEI planning committee and also presented a concurrent session on "Using Social Media for Health Communications". (Thanks to the KNH department for helping with our transportation and lodging costs).
What is Ohio SOPHE?   OSOPHE is the Ohio chapter of the Society of Public Health Education, which is a professional membership organization that exists to enhance to abilities of Ohio's health educators through advocacy, professional development and leadership in health education practice.  Mary
Chace is a long-time member of OSOPHE, and currently serves as a board member,  chair of the technology committee, which means she manages the website, Facebook, and assists with technology that is involved with workshops and conferences.   Interested in what types of jobs are currently available for public health educators?  Check out the job bank at www.ohiosophe.org.
---
We are now 
PUBLIC 

Health Education!
As of Fall 2014, the Kinesiology and Health's undergraduate Public Health Education program has a new name!   No longer "Community Health Education", the new name reflects the trends in workforce development both at the national and state levels and aligns better with the brand new accreditation process that is available for this discipline.
---
Public Health Education Student Club
Spring 2014 was a busy one; we now have 12 students who are working towards this degree which prepares students to sit for the "CHES" exam (Certified Health Education Specialist).  A student club is being formed with Mike Theobald as the President and Anna Early as the Secretary.
---
We continue to advocate for clean air for all through a 100% tobacco free campus policy both at WSU and beyond!
In this photo, Public Health Education students Tina McGillvary and Anna Early and WSU Employee Wellness Director Peggy Bloom show their support at a press conference in August 2014, where the Mayor of the city of Dayton, Nan Whaley announced the opening of their first official tobacco-free park, Cooper Park in downtown Dayton, the first tobacco-free park in Montgomery County!
---
2nd Annual Kick Butts Awareness Day – Spring 2014
In February 2014, we received a mini-grant from Campaign for
Tobacco Free Kids to host a SECOND ANNUAL "Kick Butts Awareness Day", on April 9th, to advocate for a tobacco-free campus, which was extremely well attended.  PHE student Mike Theobald organized the event as part of his KNH 2840 Practicum 1, and he did a great job – there were snacks, prizes, displays and a pledge wall.  Student Karthik Peddina won the $100 gift card for guessing the closest number to the amount of cigarette butts we collected last October during our cigarette butt clean up day.  We were thrilled
to have certified tobacco cessation specialist Bruce Barcelo stop by with his carbon monoxide detector, which can give a reading of what your personal CO level is.  What does car exhaust, fumes, faulty gas boilers and cigarette smoke have in common?  Carbon monoxide (CO) a poisonous gas that you can't smell or see.
---
 KFC, or "Kids for Cooking" program at Kettering Middle School
We also have been very involved with the "Kids For Cooking" after-school cooking club at Kettering Middle School, a program created by last fall's HED 4430 Health Program Planning class, and funded through a WSU College of Education and Human Services Partnership grant and Ohio Action for Healthy Kids.  It consists of after-school sessions taught by a local chef and the food service director, Louise Easterly (who is a nationally-recognized school food service director by the way), where 7th graders and their parents are learning label reading, shopping, cooking skills and the importance of family meals together!   We are thrilled to have the opportunity to help create, implement and evaluate such a timely and crucial program. Thanks to the Kettering Krogers on Stroop Road for donating gift cards so the students can practice what they learned at home, by cooking, shopping and chopping at home.  Thanks to Anna Early for helping with set up and organization of this class. Check out the quick video clip from our first session:
---
Fall 2013 Health Educator's Institute
For over 20 years, Ohio Society for Public Health Educator's (OSOPHE) has organized an annual "Health Educator's Institute" conference every October, to provide Ohio's health educators will high quality professional development and networking opportunities. This year's conference was on October 23-24, 2013, at Salt Fork State Park.  PHE students
Anna Early, Mike Theob
ald, Taylor Spina, and Israa Alaidrous attended with WSU faculty and PHE program director, Mary Chace, who is also an Ohio SOPHE board member.  (Thanks to the KNH department for helping with our transportation and lodging costs).
---
First Annual Kick Butts Off Campus Day, October 2013
We underestimated how many cigarette and cigar butts were littering our campus.   There were so many people, both students and staff, who came to our table with questions and comments:
 The REAL NUMBER has been released! We collected 
42, 666
 cigarette butts on our campus during 3 hours in October, 2013. Congrats to Karthik Peddina ($100 gift card to the bookstore) and Maram Alroquaie ($20 gift card)  for
their guesses of 17,000 and 70,000!
And thanks to the WSU tobacco policy committee, who just presented their recommendation for a tobacco-free campus to the WSU cabinet.  After studying the issue extensively for over a year, their vote was 11-1 FOR a tobacco free campus.
Questions about tobacco cessation or our Kick Butts Awareness Day?  Contact Mike Theobald, theobald.8@wright.edu, otherwise known as "Ciggy".Thanks to WSU reporter, Reilly Dixon, who did a great story in The Guardian.
---
Healthy Kids, Healthy Communities Advocacy Day
WSU faculty Judy Jagger-Mescher and Mary Chace accompanied students
Anna Early
and
Bridget Jones
by joining fifty other advocates from around the state to speak to their legislators and advocate for state health education standards and "Shared Use" – an important strategy for increasing physical activity in all Ohio communities.  We also advocated for state level health education standards in Ohio schools.  It's the only academic content area with no state-level standards. See the 
Image on left – created by student
Mike Theobald
last spring – now being used in this campaign!